Romagna Mia: By Bike in Agriturismo
Self-Guided in the Faentine Hills
Romagna Mia: By Bike in Agriturismo
Self-Guided in the Faentine Hills
Choose between paved and unpaved options of various distances and levels of difficulty. Your base is a beautiful agriturismo with pool in the faentine hills with excellent local cuisine.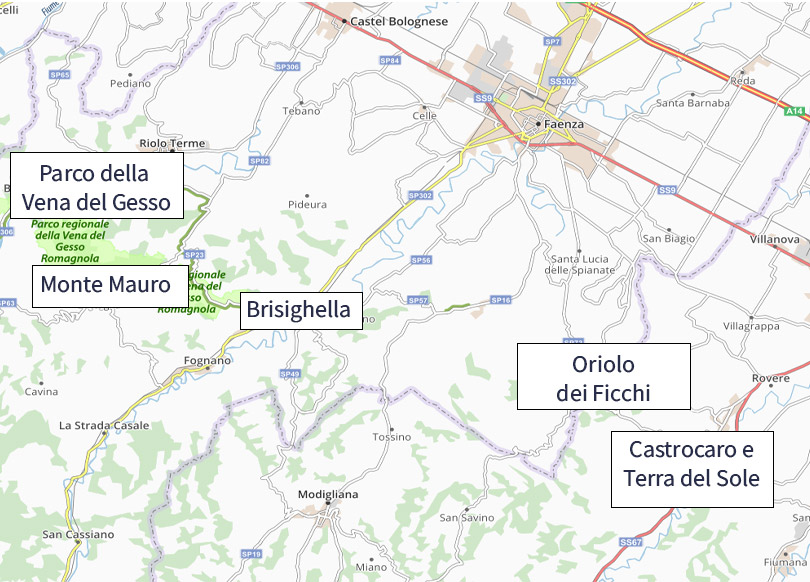 Faenza's hills await you with fairytale landscape, hidden wineries, romantic medieval villages, breathtaking ravines in the Parco della Vena del Gesso, and famous traditional cuisine. Choose your bike and routes to discover this captivating territory.
We've developed this formula for those who want to cycle at your own pace with freedom to explore on your own schedule.
In this two-day/one-night package you choose between a paved route that meanders through Brisighella, Castrocaro, and Terra del Sole all the way to Tuscany or the dirt roads between Monte Mauro and the Parco della Vena del Gesso Romagnola and the Corolla dell Ginestre. Always on wonderful, carefully-selected backroads.
EASY Routes

Starting from the Torre di Oriolo you can choose between two simple and delightful routes.
Both are loops where you discover the historical, cultural, and natural landmarks this territory has to offer.
The experience is dedicated especially to anyone in search of emotions, stories, and natural experiences. For anyone who gets excited about good food and la dolce vita.
Oriolo loop: 27 Km
Short Oriolo loop: 16 Km
To Cosimo De' Medici's Ideal City: this route begins with the climb up Monte Forino. From the top you'll take in one of the best vistas around, from the low mountains of the Casentino to the Adriatic Sea nearby.
The descent through the ravines leads to Terra del Sole, the "Ideal City" that Cosimo de' Medici had built in 1564. The fortified city is a splendid example of Renaissance military and urban engineering. Also worth a stop is Castrocaro Terme as you head back to your agriturismo.
On your way back you can choose between heading straight back to the pool, or visiting Faenza on your way.
Distance: 40km
Castles and medieval towns: this easy itinerary on the Romagnolo plains takes you on a discovery of the "castles of lower faentine region and its ancient walled cities.
Solarolo still has its historic medieval wall and one of its original gates. Later, in Bagnara, you'll find the Rocca Sfortzesca which houses the archeological museum.
The route continues among fruit orchards until Lugo, characterized by its imposing Rocca e dal Pavaglione, a classic example of 17th century civil architecture devoted to the commercial development of the area. Originally built for the silkworm market, today it's still the base for several important businesses.
Distance: 70km
MEDIUM Routes

The Pearls of the Parco Regionale della Vena del Gesso: pedaling in the foothills, this route takes you to the Valle del Senio, before the climb up Monte Rontana in the Parco della Vena del Gesso Romagnola.
Enjoy the gorgeous views over the park's ravines as you descend into Brisighella with its Rocca dei Veneziani. Take time to visit this unique town and its Strada degli Asini and Pieve del Tho. Then take off again through the vineyards of the Lamone valley toward Faenza and the agriturismo.
Distance: 62km.
Destination Ravenna: A flat route for athletes wanting to sprint to Ravenna to visit its splendid museums that encompass 8 UNESCO monuments of Byzantine mosaics and early Christian art.
Once upon a time, Ravenna was the base for the Roman Navy, capital of the Western Roman Empire and the kingdom of the Ostrogoths. Today Ravenna offers visitors an impressive history around every corner.
Distance: 82km
CHALLENGING Routes

Brisighella and its lovely medieval old town. For those who want a good challenge, this loop ride combines imposing hills with local culture. Brisighella is the first stop on the tour, where you can visit the picturesque medieval center, the Pieve romanica del Tho (a medieval parish), and even the Rocca dei Veneziani (the fortress). A panoramic climb takes you up to Modigliana, its Palazzo Pretorio and medieval bridge, the Ponte della Signora.
From Modigliana you keep climbing up Monte Trebbio for a spectacular view over the lush hills. From here, it's a great long descent back to the agriturismo.
Distance: 75km.
An arduous route for diehards: A challenging route that pays off with extraordinary views over the Romagnolo hills.
First stop is Brisighella where you can visit the charming medieval center and the Rocca dei Veneziani, then it's up the Monte Rontana Pass for extensive views over the pliocene ravines of the Parco della Vena del Gesso Romagnola.
Swoosh down to Zattaglia from here for a stunning route to Poggiolo for the second climb up to Casola Valsenio. Follow the valley of the Senio to Riolo Terme, with a slight detour into town, and then on toward Faenza and Oriolo where your agriturismo awaits you.
Distance: 88 km
Days: 2 days and one night
Distanza totale: You decide
Route: Many choices, from easy to medium to hard, on paved and unpaved roads. Choose between paved routes through small scenic towns or immerse yourself in nature exploring the Parco della Vena del Gesso Romagnola.
Lodging: ou are free to choose from the following quiet, relaxing agriturismi in the Faentine hills (all three have pools.)
– LA SABBIONA (www.lasabbiona.it) Surrounded by vineyards, just below the Torre di Oriolo, La Sabbiona has a marvelous cellar for producing and storing the wines from its 15 hectares of vineyards. Be sure to taste the local varieties Centesimio and Famoso!.
– LOCANDA DELLA FORTUNA (www.locandadellafortuna.it) You'll never forget the spectacular poolside views from this hillside paradise. The Locanda della Fortuna is also know for its three different menus of delicious local Romagnolo cuisine.
– CA' DE' GATTI (www.cadegatti.it) Ideal agriturismo that excells in romagnolo hospitality and top notch cuisine. In addition to the splendid views from the pool, the olive groves and traditional family cooking make for an enriching and relaxing stay.
Date: Your choice
Starting and ending point: One of the three agriturismos mentioned above.
Price per person: € 105
Included: Half-board in agriturismo with pool; an array of GPS tracks of various levels which you can download to your smartphone or GPS; Welcome coffee on arrival with a presentation of the tour and bike fitting for whoever rents a bike.
Not included: Bike rental (see below); guide, GPS rental, nightly hotel tax (on the range of €3 per person per night), meals not mentioned above, drinks, transportation to and from the agriturismo, entrance fees to museums or activities not expressly mentioned; helmet (€10 rental fee); travel insurance; luggage transfers, single room supplement; anything not mentioned under "included."
Bikes available: hybrid e-bike €25/day; hybrid bike €15/day; e-MTB € 30/day; premium titanium road or hybrid bikes €20/day; tandem bike € 30/day; GPS rental (Garmin Outdoor) € 40 for duration of tour.
Minimum number of participants: 2
Contact us to see the routes and elevation profiles.